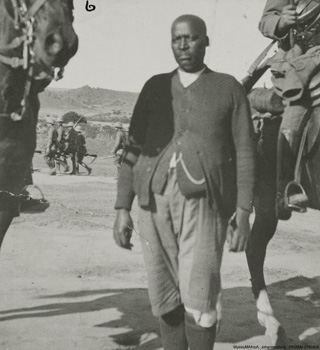 http://www.dacb.org/stories/southafrica ... noch2.html
Enoch Josiah Mgijima
1868 to 1928
Israelites
South Africa
Enoch Josiah Mgijima (1868-May 3, 1928) was the leader of the Israelites, a religious sect involved in the bloody clash with a contingent of South African police at Bullhoek, a rural African village situated about 25 miles from Queenstown in the Eastern Cape.
The massacre, on May 24th, 1921, in which nearly 200 members of the sect were killed, was the outcome of a lengthy confrontation between the South African state and Israelites who had been called in 1920 by Mgijima to congregate at their "Holy City," Ntabelanga (mountain of the rising sun) and await the approaching millennium.
Enoch Josiah Mgijima was born at Bullhoek in 1868, the third of four sons and daughters of Jonas Mayekiso Mgijima, a Mfengu peasant. Unlike his older brothers who went to school at Lovedale Institution, Enoch never went beyond standard III. He remained at Ntabelanga where he became a small landowner and game hunter, gaining prominence in the Wesleyan Methodist Church first as a lay preacher and later as an evangelist in his region.
In 1912 Mgijima broke away from the Wesleyan Church and joined another church known as the Church of God and Saints of Christ (CGSC). The majority of his followers were African Christians breaking away from European -led denominations because of what they perceived as European missionaries' practice of racial discrimination within the church and the denigration of African customs. However, Mgijima was excommunicated from the Church of God in 1919 following his millennial predictions. Mgijima then signaled his followers to come together at Ntabelanga to await the "final day." Some 3,000 people, most of them within a 100 mile radius, eventually settled at Ntabelanga. They responded to Mgijima's call, because for years, they had been waging a losing battle to retain their independence and identity in an unstable and hostile environment. In Ntabelanga, they found a place of solace and comfort. Mgijima promised them that God had ordained that they were to play a crucial role in His plans.
For over a year, South African government officials had negotiated with the Israelites, hoping to persuade them to move off land the government claimed the sect was occupying illegally. Finally, after all attempts at negotiation had failed, and with the government suspecting an

Israelite

rebellion, a police contingent was dispatched to remove the Israelites. When the Israelites resisted the police opened fire, killing about 200 people. Mgijima was subsequently arrested and imprisoned for two years for his leadership of the resistance.
Enoch Mgijima returned to Ntabelanga in 1923, and in 1926 he built a large church in Queenstown. Mgijima was but one of a number of self-styled "prophets" to appear in early Twentieth Century South Africa.
Bennie A. Khoapa
Bibliography:
Lea Allen, The Native Separatist Church Movement in South Africa, Cape Town, 1926; D.D.T. Jabavu, Lessons from the
Israelite
Episode, South African Outlook, July 1921; Vuyani Mqingwana, "The
Israelite
Movement and the Bullhoek Episode," Unpublished M.A. thesis, Northwestern University, 1975; Robert Edgar, "The Fifth Seal: Enoch Mgijima, the Israelites and the Bullhoek Massacre," Unpublished Phd. thesis, University of California, Los Angeles, 1977; Robert Edgar, Because they chose the plan of God: the story of the Bulhock Massacre, Johannesburg: Ravan Press, 1988.
This article was reprinted from The Encyclopaedia Africana Dictionary of African Biography (In 20 Volumes). Volume Three: South Africa- Botswana-Lesotho-Swaziland. Ed. Keith Irvine. Algonac, Michigan: Reference Publications Inc., 1995. All rights reserved.
http://www.iol.co.za/capetimes/day-isra ... wn-2039634
Day Israelites were mowed down
CAPE TIMES / 29 Jun '16, 00:20am
Dougie Oakes
THIRTY minutes… was all it took for a force of close to 1 000 white policemen, armed with machine guns, to crush an act of civil disobedience led by an African prophet named Enoch Mgijima and several hundreds of his followers, whose weapons were an assortment of sticks and

stones

, assegais and similar weapons
.
It happened on May 24, 1921 and the countdown to this tragic loss of life began when heavily armed police started marching to Ntabelanga – "the Mountain of the Rising Sun", about 25km from Queenstown in the Eastern Cape.
Mgijima and his followers, known as Israelites
, believed that the end of the world was imminent, and they had therefore decided to gather at Ntabelanga to wait for it.
But the police were not interested in the beliefs of the Israelites. All they wanted to do was to ensure that Mgijima and his followers moved off land they believed did not belong to them.
They stressed that they did not want a fight, but if they were drawn into confrontation, they would not hesitate to use their weapons.
Mgijima had an interesting upbringing. His father, Jonas Mayekiso Mgijima, a member of the Hlubi clan, grew up at the foothills of the Drakensberg mountains before being forced to flee during the period of upheaval – known as the Mfecane – during the first few decades of the 19th century.
Mgijima the elder was a member of a Hlubi group which found its way to the Eastern Cape, where they sought the protection of the Gcaleka Xhosa. In their new surroundings, they became known as Mfengu, which in the dialect of the region translated as "
We are wanderers who seek help
".
The Gcaleka Xhosa referred to them by this name because they had arrived in the Eastern Cape bearing all the signs of people who had fled in a great hurry: they carried hardly anything with them.
The Gcaleka proved to be generous hosts, providing them with dairy cattle and grain until such time that they were able to sustain themselves. But the new arrivals were ambitious – overly so – and quickly displayed a preparedness to stab their hosts in the back if this would mean getting more land and resources for themselves. Thus, in 1834-35 when the Gcaleka Xhosa fought the British, and the British offered the Mfengu land to fight on their side, the Mfengu were quick to agree.
And the British, for once, kept their word after the cessation of hostilities. They settled thousands of Mfengu on prime land between the Fish and Keiskkamma rivers.
In their new settlements, they became prime targets for Wesleyan missionaries, eager to introduce them to the wonders of Christianity such as churches, "European" clothes and brick houses with tin roofs.
In 1856, Jonas Mgijima settled his family at Bulhoek, close to the Black Kei River and, by all accounts, initially became a very wealthy person.
But in a land where catastrophe could occur quickly, and where natural disasters such as drought and animal disease such as rinderpest could quickly sweep across a region, wealth could be wiped out in weeks.
When poverty struck, those affected by it were prepared to believe anything. Church leaders and so-called prophets found ready audiences 
among the now wretched of the earth.
In the early years of the 20th century, Jonas Mgijima's son, Enoch, had a burgeoning reputation as a lay priest in the Wesleyan Methodist Church. His influence spread even wider when he became an independent evangelist. Then, on April 19, 1907, his life changed completely: he had a vision…
An angel said to him: "I'm sending you to people who see clearly today, but nothing tomorrow. If you do not carry out this mission, I will take all the sins of the people and hold you accountable. I have sent you to these people because I am worried that although they worship me, they are not honest in their worship of me. I want you to worship me to your old traditions.
One of Mgijima's strongest messages all around the area was that the world was about to end. He said God was angry with humanity and that people everywhere should return to paying homage to Old Testament teachings.
Towards the end of 1912, he predicted that the world would end on Christmas Day. But even though nothing happened, his followers continued to hang on to every world he spoke. By then, Mgijima was on an unstoppable path. He quit the Wesleyans and decided instead to throw in his lot with a small black-run church from the US – the Church of God and Saints of Christ.
He continued to have visions and much to the horror of his partner church in the US, which believe in peace, not war, one of the visions seemed to suggest a race war between white and black.
Expelled by the Americans, he started his own church group in South Africa, with those who chose to remain with him. They became known as Israelites
In 1919, Mgijima predicted that the world would end in 1920. It resulted in about 3 000 followers from all over South Africa arriving at Ntabelanga, where they proceeded to squat on the land. They were accused of erecting a tabernacle and some huts on the property without registering these with the authorities or paying tax.
As the new arrivals began erecting more dwellings, white officials began accusing him of building on British property. But he ignored instructions to remove the houses.
There was little Israelites could do either. On arrival at the village, they had been told to get rid of all their worldly possessions. If they were forced to leave, it would be with nothing.
On December 7 and 8, 1920, the senior magistrate of Queenstown, ECA Welsh, arrived at Ntabelanga with 100 police officers. They set up camp about a half a kilometre from the Israelites.
Panic began sweeping through the ranks of white townspeople, and Israelites began fearing an attack by the heavily armed police, or being arrested if they left the village. And in the meantime, a farmer shot two Israelites foraging for food on his farm.
Smuts eventually decided to send a team of negotiators to speak with the Israelites. On May 20, 993 policemen and 35 officers from various offices gathered in Queenstown to prepare
to expel the Israelites. The Israelites, in turn, did some preparations of their own. They marched and trained every afternoon, before killing an ox and dipping the tips of their spears into its blood.
On May 21, Mgijima was given an ultimatum. He was told to ensure that all illegal squatters left the area and that all illegal houses had to be dismantled.
On May 23, 1921, the police, armed with machine guns, a canon and artillery, moved in. About 500 Israelites waited for them. Their defiant message was: "We will not allow you to scatter our people from Ntabelanga. We will not allow you to burn our huts, and we will not allow you to arrest the two men you wish to."
It was not clear how the battle started, but some reports say it may have begun after a shot was fire by accident. Soon afterwards, the Israelites launched an attack and the police were given the order to respond.
One of the policemen, Colonel Woon, said the Israelites were "the most determined and fanatical I had ever experienced, and it was only by shooting them down that the attack could have stopped". About 200 people were killed, more than 100 wounded and 141 arrested, including Enoch Mgijima and his sons.
In November 1921, 141 Israelites were charged with "violent and forcible conduct against the authority of the state". All were found guilty. Mgijima and his older brother, Charles, and Gilbert Matshoba were sentenced to six years' hard labour at De Beer's Convict Station in Kimberley. Most of the others were sentenced to prison terms of between 12 and 18 months.